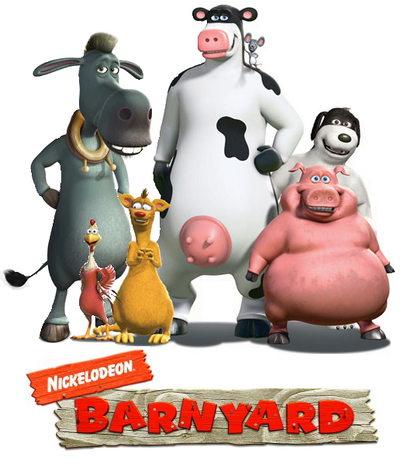 WikiBarn is a collaborative website about Barnyard and Back at the Barnyard that anyone can edit!
The wiki format allows anyone to plant and harvest (i.e. create and edit) any article so that we can all work together to spread the word about WikiBarn; but we need your help as well! Check out the FAQ to help you get started!
About WikiBarn
Welcome to WikiBarn! Enclyclopedia of the characters of the Barnyard franchise. Featuring Otis, Pip, Miles, Duke, Freddy and all their friends in a wiki filled with fun and parties down on the farm.
About Barnyard
Main article: Barnyard (film)
Barnyard is a CGI animated film from Nickelodeon Movies and distributed by Paramount Pictures. It stars the voices of Kevin James, David Koechner, Danny Glover, Courteney Cox, Wanda Sykes, Sam Elliott and Andie MacDowell.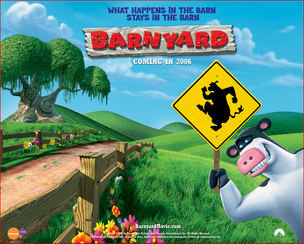 When the leader of a barnyard is killed while protecting the farm from coyotes, his party-loving son must take on the responsibilities and learn what it means to be a leader.
About Back at the Barnyard
Main article: Back at the Barnyard
Back at the Barnyard is an animated TV series on Nickelodeon based on the movie, Barnyard. While Wanda Sykes reprises her role as Bessy, Kevin James is replaced with Chris Hardwick as Otis. Even though this is based on the movie, some characters that were in the film (such as Daisy and Miles) are absent and Daisy is replaced by another female lead named Abby.
News and Updates
- More News.
Nicktoons: Weekdays at 4:00 AM (2 episodes; added Season 2 episodes are airing in the rotation).
Nickelodeon: The series is cancelled, so reruns don't air on Nickelodeon.
NOTE: All times on Nick are Eastern / Pacific and Nicktoons times are Eastern Time Zone (subtract one hour lin the Central, 2 hours in the Mountain and 3 hours in the Pacific Time Zones). All times are as of October 1, 2010.
Check with your regional Nickelodeon channels internationally for air dates and times.
Polls
Do you want a sequel to the movie Barnyard?
Who's your favorite character?
Who's better as Otis' love?
Who do you vote for as the best Barnyard villain?
Who do you prefer as the voice of Otis?
Ad blocker interference detected!
Wikia is a free-to-use site that makes money from advertising. We have a modified experience for viewers using ad blockers

Wikia is not accessible if you've made further modifications. Remove the custom ad blocker rule(s) and the page will load as expected.