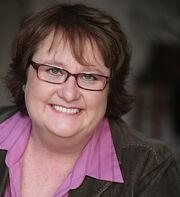 Maile Flanagan provides the voice of Macy the Lamb on the Nickelodeon TV series Back at the Barnyard.
Born May 19, 1965 in Honolulu, Hawaii, she is best known as the English voice actress in the Naruto anime series of the lead character, Naruto Uzumaki, and also has done voices such as young Piggley Winks in Jakers! The Adventures of Piggley Winks for which she won a Daytime Emmy Award for Outstanding Performer in an Animated Program in 2006.
Ad blocker interference detected!
Wikia is a free-to-use site that makes money from advertising. We have a modified experience for viewers using ad blockers

Wikia is not accessible if you've made further modifications. Remove the custom ad blocker rule(s) and the page will load as expected.