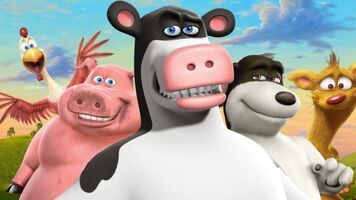 Barnyard is a computer-animated franchise, created for Nickelodeon by Steve Oedekerk.
Premise
The franchise follows the adventures of Otis, a bull who loves to party with his fiends Pip, Freddy, Peck, Pig, Miles, Abby, Bessy, and Duke on a barnyard while the Farmer goes away for the day. When the humans aren't around, they have parties, play pranks, and have adventures without letting humans know that they can walk and talk. Unfortunately, there are several humans who are trying to expose them and get rich. Luckily, Otis always comes with a plan to keep their secrets from humans and to protect the Barnyard from evil enemies. 
Production
The premise of Barnyard originated from Steve Oedekerk, co-creator of Nickelodeon's other CG-franchise Jimmy Neutron: Boy Genius. The idea sprouted from an experience he had with his dog; every time he turned around, his dog would go back to doing what he was doing, so Steve got an image in his head about the dog going back to playing poker with the other dogs. This spawned the idea of Barnyard and so, production on the film began.
One of the most notable things about the franchise is that the male cows have udders, which is biologically impossible. Steve said that the reason he made all the male cows look like this was because he figured that city folk thought all cows would look like this.
Around summer 2004, Steve Oedekerk began pre-production of creating a new film that starred barnyard animals. Later, in Fall 2006, Oedekerk had ended production of Jimmy Neutron after working with Butch Hartman with the last two Jimmy Timmy movies, which production officially closed November 2006. Through April and August 2006, commercial shorts and teasers begin to be released. Nickelodeon then released Oedekerk's film Barnyard in August 2006.
Despite the film's negative reception, Nickelodeon had given the green light for his new CGI spin-off television series Back at the Barnyard, which was based on the film. In March 2007, Nickelodeon released promotional commercials for the new series during the 2007 Kids' Choice Awards.
Filmography