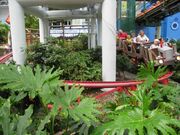 The Back at the Barnyard Hayride (or the BatB Hayride for short) is a roller coaster located within the Nickelodeon Universe theme park at the Mall of America in Bloomington, Minnesota. This ride is primarily designed for children as a "junior coaster".
Constructed in 1995 as the "Li'l Shaver" when the theme park was known as "Knott's Camp Snoopy," this coaster is made by Zamprela utilizing its' Dragon loop coaster model which replaced the Huff N' Puff ride. The ride, which lasts a minute and a half costs three points in the park from a paid wristband system, and carries as many as twelve riders at a time.
Ad blocker interference detected!
Wikia is a free-to-use site that makes money from advertising. We have a modified experience for viewers using ad blockers

Wikia is not accessible if you've made further modifications. Remove the custom ad blocker rule(s) and the page will load as expected.